Observed Solar And Lunar Eclipses
---
Annular Solar Eclipse of October 3, 2005
Observed from Torrelodones, Madrid, Spain, 40°35'14"N 3°55'18"W 934m a.s.l.
To observe our first annular eclipse, we spent 2.5 days in Madrid (find here the complete set of pictures). The day before the eclipse we drove in the direction of El Escorial to find a nice place for our observations. We chose the village of Torrelodones, about 30 km outside of Madrid, where we found an elevated spot only 200 m off the path of the antumbral shadow. Our equipment consisted of a Canon EOS 10D with a 1000/10 Maksutov lens and a DV video camera. The annularity lasted 4min 12sec at our location. We were able to observe the full eclipse under perfectly blue skies.
Photographs and composition © R. Wagner 2005. Please respect copyrights.
Location: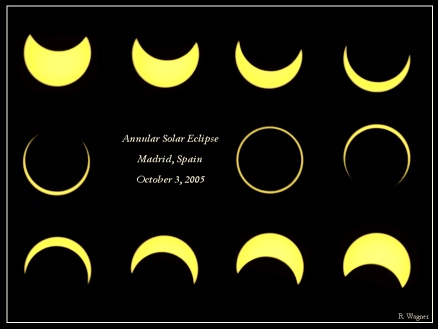 ---
R. Wagner, 2006-12-23